Clear Vinyl Panels for Covered Patios
PES customers enjoy the best of both worlds, their patio in good weather, and complete weatherproofing from rain, HEAVY WIND, snow, pollen and dust when the weather turns. Your PES easily is easily deployed last minute, offering protection when you need it.
Clear Vinyl Panels with Glass Like Clarity
Our clear vinyl panels utilize scratch, UV and stain resistant pressed polished vinyl sheet glass that can roll up. This is a high tech, high density, and more durable solution than found on most restaurant enclosures & party tents. Our clear vinyl windows are auto-grade, marine grade and won't yellow, cloud, mildew or crack over time.
Enclosing Patios has a Unique Set of Challenges
Covered patios often have larger openings than your standard screened porch. They may also lack the typical framing and posts, limiting how your enclosure can be attached to your outdoor space. The PES Team has decades of experience building enclosures that can attach firmly to your outdoor space.
Commercial Patio Enclosures
The same technology goes into building our large commercial and restaurant enclosures. This often requires designing an enclosure for a covered patio that wasn't intended to enclosed. Work arounds included adding doors, cut-outs for pedestals at the bottom support posts, mounting to differing roof lines, and custom panels for triangular or odd shaped openings.
Removing PES Panels
Our clear glass panels can remain attached year round or stored away for the summer. Removal is easy and only requires rolling up your panel, loosening two stainless steel screws found in the top track and sliding the enclosure panels out to the left of right.
However, most customers choose to leave their patio curtains installed year round. Reasons include:
Low profile design
Big fluctuations in temperature in Spring and Fall means they use PES more than expected
Block pollen in late Spring early Summer
Block the rain from Summer storms
Curtains are UV resistant and also well protected when rolled up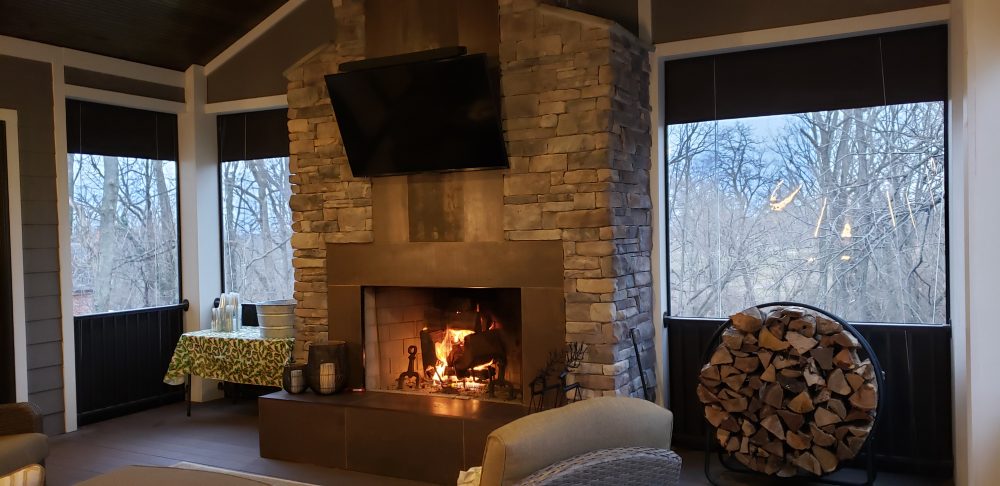 Resources for Considering a Porch Enclosure System
For assistance in determining how to properly fit a porch enclosure to your screened porch or patio contact the PES team today.