At Porch Enclosure Systems, we use the very best-in-class pressed polished vinyl sheet glass to enclose outdoor spaces at coastal and waterfront properties. Waterfront homeowners want the best quality and glasslike clarity. They want an outdoor space with the beautiful views they fell in love with when they bought their home.
Whether they live on an island, have a second home at the beach, by a lake or on the bay, coastal homeowners appreciate the nautical look and feel of our high-quality roll-up porch enclosures. From our marine-grade hardware sourced from Europe to our proprietary stitching process, PES creates a neat, polished look that will enhance rather than detract from the look of your outdoor space. PES provides you the coastal living you want, and the protection from the elements your porch needs. Porch Enclosure Systems allows you to create a coastal oasis as you spend more time in your outdoor space.
Discerning clients know that with a Porch Enclosure System, they'll enjoy their beloved outdoor spaces more often – and have more space and flexibility to entertain with a water view no matter the weather. You don't have to sacrifice the joy of having an outdoor space and your favorite coastal outdoor decor. PES is the environmentally-friendly, flexible alternative to permanently enclosing your outdoor space, giving you the best in coastal living.
Many of our waterfront homeowners are also boat enthusiasts, familiar with boat enclosures. Our roots are in the marine industry, and our parent company was chosen as the sole provider of boat enclosures for some of the most well-known and prestigious names in the offshore yachting industry. We bring this same technology to every porch enclosure we build. Bring that same elegance, style and quality to your screened porch.
Weather often prevents homeowners from simply sitting and relaxing on their porch. The marine industry has understood for years how to help families stay safe and dry on their boats regardless of the weather by using enclosures that are easy to deploy.
Weather – even the smallest chilly breeze – can prevent homeowners from enjoying their waterfront porch to the fullest. PES roll-up Isinglass curtain design borrows its materials and methods from the boating industry, and helps families live the indoor-outdoor life more seamlessly.
At PES, we craft custom outdoor clear vinyl enclosures for porches and patios using the latest technology available. Each enclosure panel rolls up and down, to protect your outdoor space from storms, inclement weather, pollen and pests. Our porch curtains can temporarily enclose a space for winter, allowing you to more easily close down and reopen for the season.
We custom-build and install PES for waterfront homeowners for coastal living in some of the most distinctive locations nationwide, including these coastal living towns and regions:
Chesapeake Bay, Maryland
Delmarva Beaches, Delaware
Lake Coeur D'Alene, Idaho
the North and South Carolina coast
the California coast
Gulf Shores, Florida
Cape Cod, Massachusetts
We also design enclosures for restaurant patios, catered events, country clubs, resorts and private event spaces.
"I wanted a more highbrow solution for our outdoor events and weddings," said our client Urban Outfitters, who had a custom solution installed at their Anthropologie / Terrain Cafe location in Devon, Pennsylvania.
The obvious choice for elegance and waterfront wedding venues is the obvious choice for waterfront homeowners.
Say goodbye to constant washing, sweeping and dusting.
"We lived on the water in the woods and we had a screened porch, but we never used it because it was filthy dirty all the time," says Laura Gourley, a Maryland waterfront homeowner.
"We'd say, let's have dinner there tonight, and then I'd have to go out and spend a half-hour cleaning before we ate, so it became a space that we didn't really use."
Now that she has an enclosure, a cleaner porch year-round means less work for her, and more time enjoying the benefits of her outdoor living space.
"I love having the cushions and the comforts of fabric and pillows in my outdoor space. PES is great because I can go out, and everything is ready and clean. I don't have to consider wiping anything down," says Laura.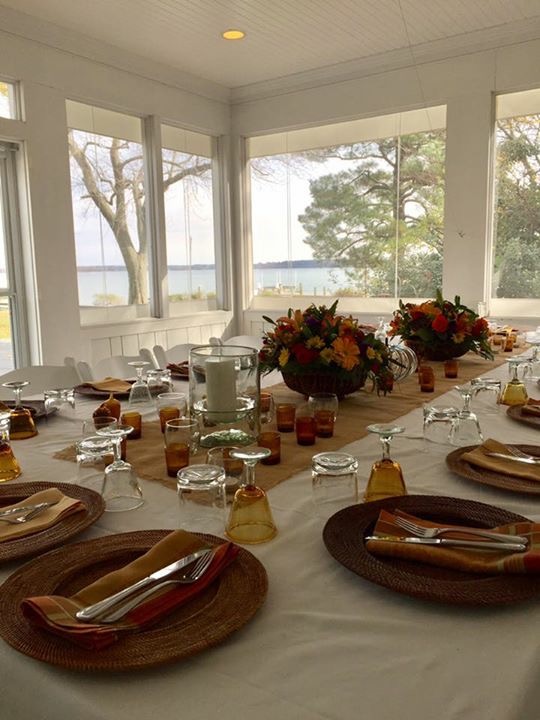 Abby Campi of Restorations, a St. Michael's Maryland-based business that provides restoration, new construction supervision, and architectural services, works with PES on behalf of her waterfront homeowner clients.
"Thanksgiving guests were toasty warm, so it really works," reports Campi of a client who used a space heater inside her Porch Enclosure System.
"The owner also said she keeps the PES curtains rolled down all the time when they're not staying at their second home because it keeps out all the dirt. And in the summertime when it's thunderstorming, everything gets wet. Even if you have an overhang and screens you're still going to get some water around."
"With the PES system," says Campi, "you can use the porch even when it's raining, so customers are very happy."
Even without a heat source, on a sunny day in the off-season PES creates a greenhouse effect with temperatures typically 20 to 30 degrees warmer than they are outdoors. The pressed polished vinyl sheet glass that make up the "window" portions of the roll-up curtains allow heat in, and are made of such tightly fitted, clear, high-quality material that people often don't even realize the enclosure is rolled down. "If you drove by our house, if you weren't looking for it, you wouldn't necessarily notice it was there," Gourley said.
Never cancel an outdoor gathering due to poor weather conditions.
The versatility of a Porch Enclosure System includes a host of benefits that make welcoming guests for gatherings, holidays and entertaining a breeze. PES protects your porch, furnishings, and décor, so you and your guests have the security of knowing that if the weather turns, you can quickly adapt your porch or patio to the changing environment. Live your coastal life outdoors! You'll find you also use your porch, patio or gazebo earlier and more frequently in the off-season.
About Porch Enclosure Systems
Porch Enclosure Systems are the leading experts in manufacturing and delivering custom-fit, quality enclosures. Originally a builder of high-quality boat enclosures, PES evolved to serve the private residential, commercial and hospitality market. Made in the USA, Porch Enclosure Systems are revolutionizing the industry with cutting-edge technology-driven innovations for superior beauty, quality and protection. PES provides in-home installation in the Mid-Atlantic, and convenient direct shipping throughout the U.S. & Canada. For more information, take our guided online tour and get pricing today. You can also call (410) 775-6421 (8AM- 5PM Eastern Time), schedule a call with a Porch Enclosure Systems project specialist, or visit www.porchenclosuresystems.com.