Restorations, a construction supervision company, was working on a client's second home in St. Michaels renovations. After helping the owner's supervise a porch build 3 years previous, the owners decided they wanted to host a Thanksgiving dinner there for 22 guests, one month before the holiday. But the home's 3000 square feet couldn't accommodate their plans, so they decided to look at enclosing their porch. They didn't have a big enough space inside their home except for the screen porch because they wanted to put everyone at the same table. They asked Abby to find a solution. They told me this in October, so I was like "Oh my God!", because you couldn't order and install windows in that short a time. So I looked online and found PES, and I said, "That's It!" So I supervised that installation and the homeowners were as happy as clams.
It got cold through toward the end of November, so they put two oil-filled radiators out on their enclosed porch, and they said the owner and their Thanksgiving guests were toasty warm, so it really works. The owner also said she keeps the PES curtains rolled down all the time when they're not staying at their second home because it keeps out all the dirt. And in the summertime when it's thunderstorming, everything gets wet and even if you have an overhang and screens you're still going to get some water around, and with the PES system, you can use the porch even when it's raining, so the customers are very happy with it.
She then came down in January – she had to get clothes from the St. Michaels house to go on a trip, and she was like gee the pillows weren't brought in, and she looked up and saw that the curtains were down. She forgot that the PES had been installed. Nothing was dirty, everything was great, all the storms and all the dirt that usually comes in there didn't. It was wonderful.
PES was wonderful to work with. They were very nice, they were very thorough – the workmanship was great. They were very accommodating. The work was done a week ahead of schedule which was remarkable because I was nervous it wouldn't be finished in time for their Thanksgiving dinner. They have a great product. They have unique fasteners that make it much easier to get the curtains up and down. They don't flap in the wind – that was one of the concerns of the client, that they wouldn't be banging around all the time. The way PES designed them, it doesn't.
We used to restore all cars, and it's very similar to the Isinglass used on the old convertible side and roof curtains, so that was my comfort zone because I had experienced that on all those old cars.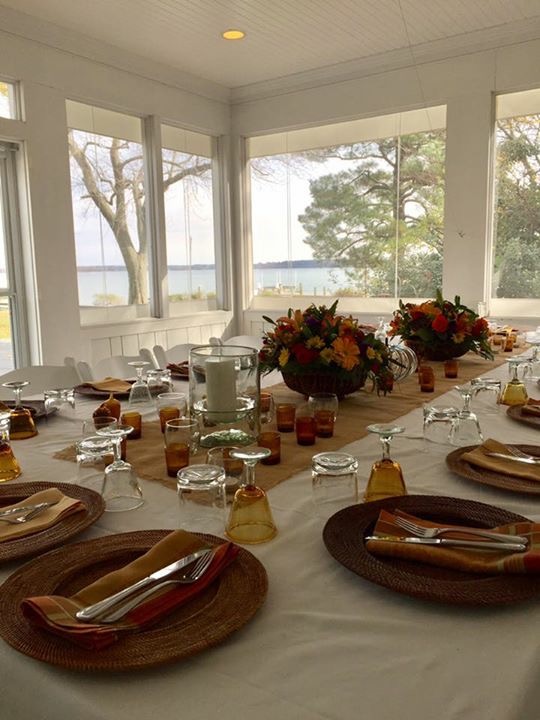 Abby Campi is a partner at Restorations Design in St. Michaels Maryland. Restorations is an interior design firm that also collaborates with architects during the design process. She designed a screened porch for her client with the intention of using a Porch Enclosure System. Shortly after the new porch was built her client was ready to host a Thanksgiving Day party on her screened porch. Abby reached out to PES and a our new enclosure was in place in less than 3 weeks.  Shortly after Thanksgiving a photo was emailed to us with the caption, "Thanksgiving for 22 thanks to you!"